Fastest, Proven, Scalable, Trusted Intelligence
RegDelta gives your enterprise the power to scan the horizon and configure your obligations into a single business truth. Unlike any other provider, we use NLP to determine relevance from millions of alerts, enrich every document with a deep, proprietary model for FS obligations and deliver them to your instance in near-time as global policy develops
Request a Demo
RegDelta USPs
RegDelta Intro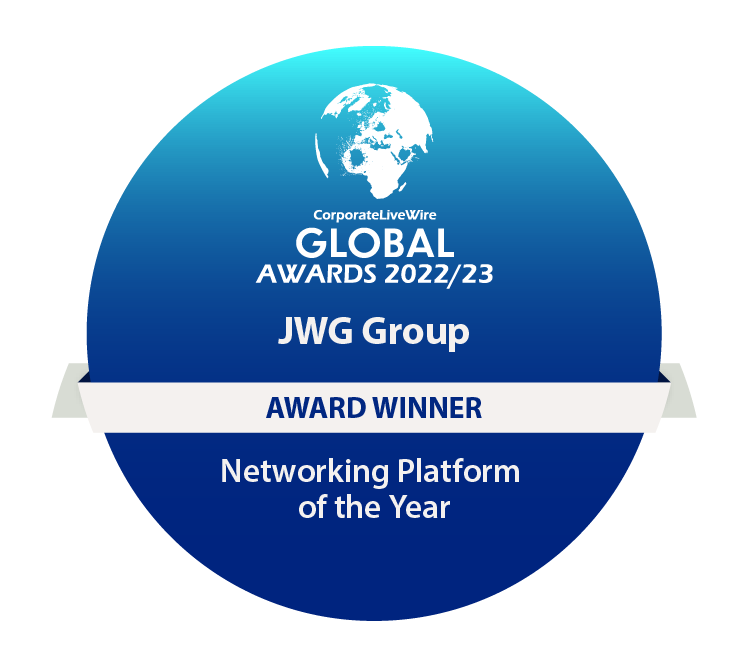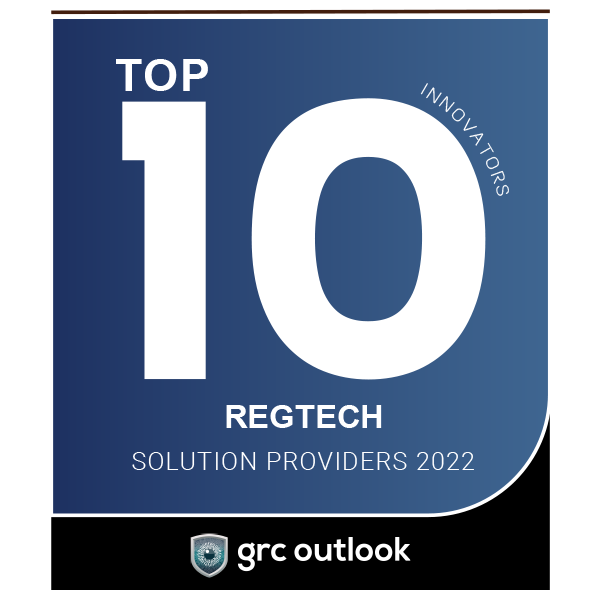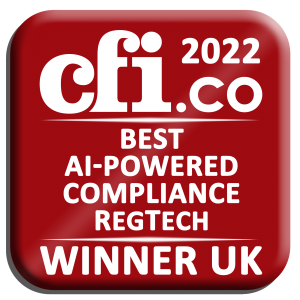 The gold standard for AI-powered control over regulatory obligations
With global operations, JWG's RegDelta provides the broadest regulatory intelligence, with the deepest enrichment, within the fastest timeframes on the market.
Over the past 5 years RegDelta has served organisations with:
Document library management – the largest document digital library stretching back over a decade
Horizon scanning for 900+ sources for relevant documents in 18+ languages globally
Impact assessment – the industry's most comprehensive and intuitive workflow for your enterprise
Data – RegDelta provides documents in XML format with an enhanced style sheet via SFTP or API
Management information
– used to generate bespoke
Radar Report
470,000+ pages of FS regulation each year
Once every minute a regulator updates a website. In 2021 alone, JWG filtered 612,000 events from 700+ regulatory publishers. By year-end we converted 28,000 documents with 138 million words describing 634 legislative initiatives.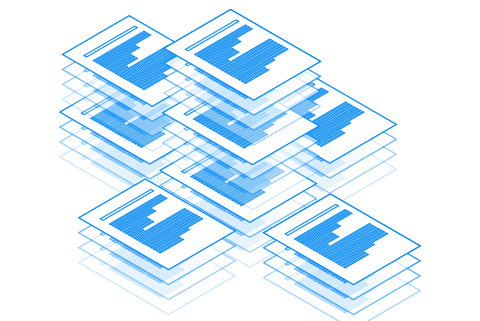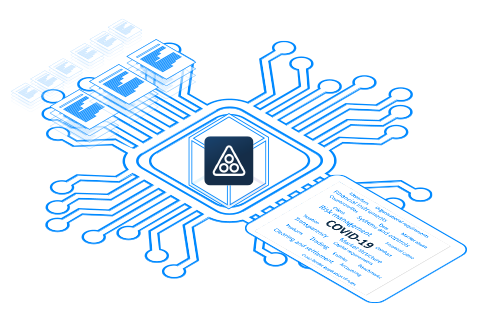 Filtering the deluge
Cost effective way of filtering what matters to your team and simplifying their workflow, so your policies keep up with the rules.
Use technology to mitigate risk
Missing a single update can cause a disproportional loss if the firm fails to spot a regulatory change and action it appropriately. To mitigate this risk financial institutions, need to digitise their operating models with RegTech which creates as single view of the regulatory truth throughout their organisation.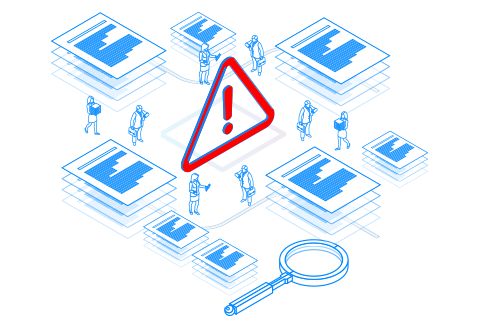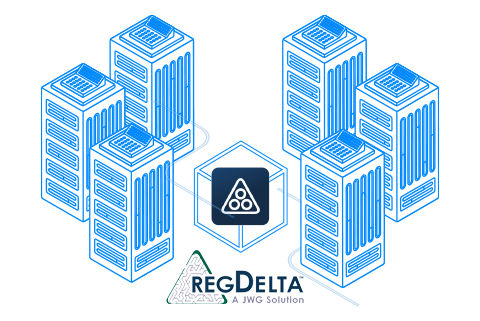 RegDelta AI-Powered Natural Language Technology
While much work has been done to comply, now more than ever there is a need to control the way an FS business implements these complex and detailed rule sets. The good news is that RegDelta AI-Powered Natural Language Processing technology can put you in the driving seat in a better, faster and cheaper manner.
How you can use RegDelta
At JWG, we understand the stress of onboarding a new application internally, and that's why we have created a seamless onboarding approach to minimise the impact on BAU.
RegCast
Our RegCast, 'Implementing RegTech control solutions' discusses the areas that need to be considered when looking at the market offerings and what it takes to deploy next generation data feeds..
RegDelta AI-Powered natural language technology platform with over 15 years of experience
RegDelta uses AI-enabled NLP to help humans make intelligent decisions about their compliance obligations. In addition to hundreds of NLP tags, each document is summarised and enriched with 12 metadata fields by JWG analysts, allowing users to navigate vast libraries in a seamless workflow.
RegDelta's SaaS + data offering your gives enterprise the power to scan the horizon and configure your obligations into a single business truth. Unlike any other provider, we use NLP to determine relevance from millions of alerts, enrich every document with a deep, proprietary model for FS obligations and deliver them to your instance in under 3 days.
Our clients have achieved massive returns on their investment.

Call us on (+44)7973 492906 for more information on how our clients have deployed and benefited from the RegDelta system.
Request a Demo
Find out more about JWG
RegDelta gives firms control over their regulatory obligations
Enter some text...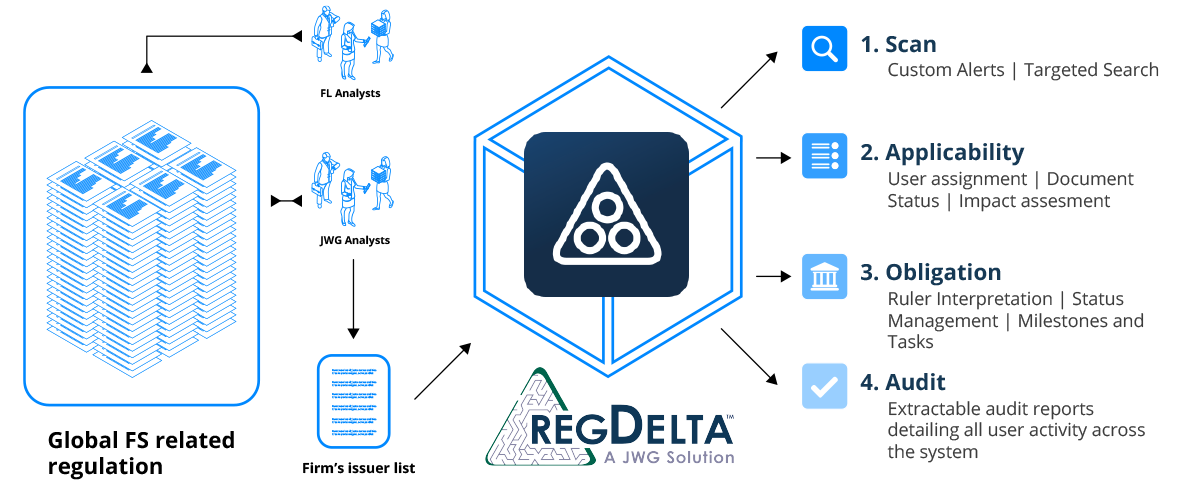 How you can use RegDelta
At JWG, we understand the stress of onboarding a new application internally, and that's why we have created a seamless onboarding approach to minimise the impact on BAU.
RegTech Intelligence
Your comprehensive library of in-depth articles, white papers, surveys, reports and analytics, covering ever changing regulatory obligations and how new technology ensures compliance.
Explore RegTech Intelligence
RegTech Community
RegTech Communities provide a dedicated, safe space where financial institutions, regulators, trade associations and technology suppliers come together to stay ahead of sector demands.
Explore RegTech Community