JWG Radar Reporting Service
JWG is uniquely positioned to offer bespoke regular Radar Reports, based on real-time data from its horizon scanning platform RegDelta, combined with careful analysis from its highly experienced team. This allows clients to quickly understand existing and new regulatory changes, impacted controls and overall control risks.
Clients have achieved massive returns on their JWG Radar Reporting Service investment, through highly focused business growth, the limitation of risk and the need for expensive remediation programmes.
The current problem
Professionals at the coal face struggle to stay on top of regulatory changes which affect their markets. Email alerts from professional services firms highlight offer broad brush overviews, but miss much of the important detail. This means that business opportunities are missed and risks are introduced, resulting in expensive remediation programmes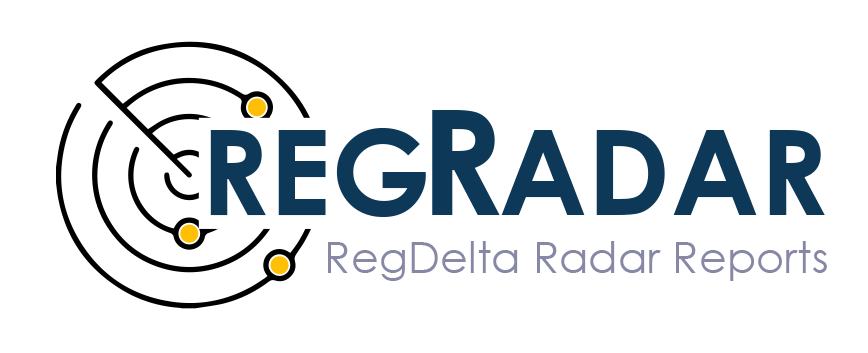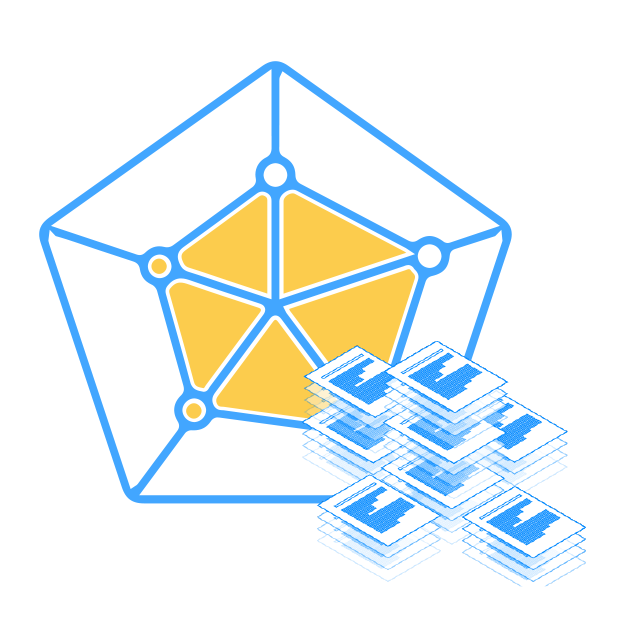 A comprehensive & trusted approach
JWG regulatory analysts work with your team to understand your business' regulatory heatmap derived from our comprehensive, global taxonomy of regulatory themes. Our team produces bespoke radar reports and takes you though the updates on a timetable to suit your needs. If you would like, we can take on ad hoc analysis between scheduled reports.
Service overview
Why JWG?
JWG is uniquely positioned to offer bespoke regular Radar Reports, based on our global network, regular collaboration with the industry and real-time horizon scanning data. No other service provider occupies this niche.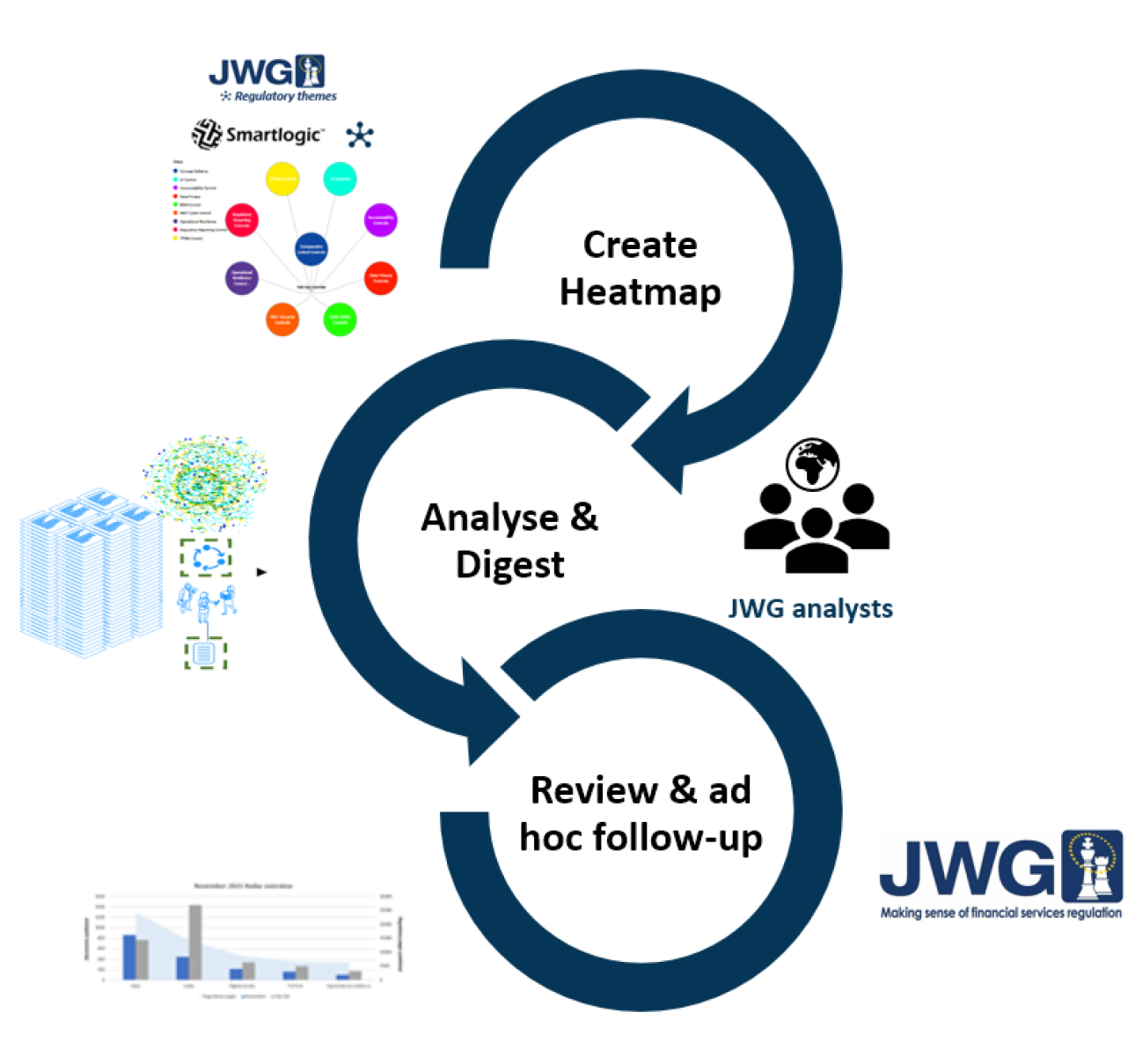 Radar Service Snapshot
JWG analysts have used RegDelta to analyse over 21,000 documents to pinpoint Client risks and opportunities generated by regulatory initiatives across the globe.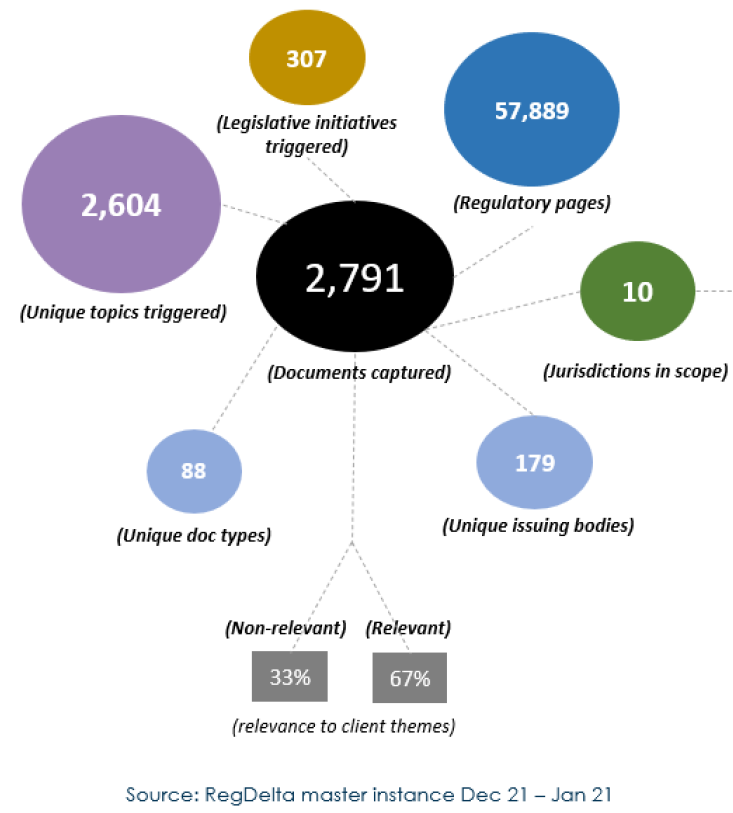 Global RegRadar quarterly document count by theme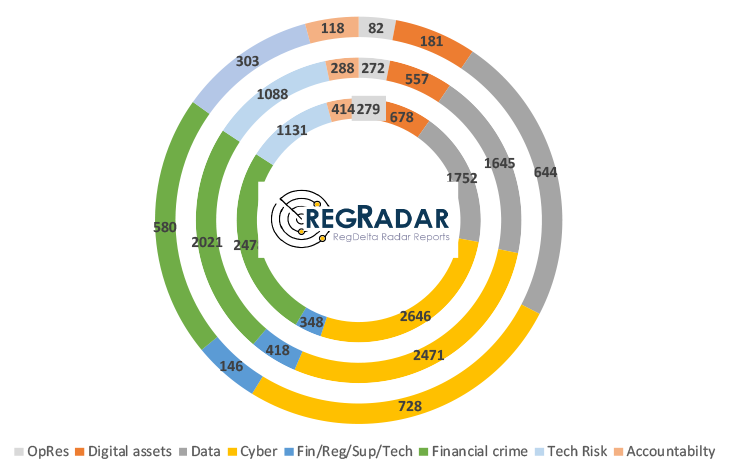 Source: RegDelta master instance, Sep 21 – Feb 22; 847,201 pages from 21,268 documents
We use RegDelta's powerful tagging and comprehensive data feed to filter the noise so your team is out in front of the latest developments, mitigating your risk of missing out and cutting the cost of trolling through emails. p;
Theme
2022 Topic and regulatory initiative highlights
Trading/ Digital assets

CBDC, crypto assets, crypto currency, DLT, stablecoin, reporting
Market rules (e.g., MICA/MiFID III), NCB innovation, AML, marketing, transparency

Data

Digital policies, central databases, reporting protocols, standards
AI Hub, AML, con. tape, CRR 430C, ESG, ISO20022, market data, privacy, fines

Cyber

Technology attack; technology hazard: outages, data corruption
NIST cyber, DORA/ EU-SCICF, EU NIS2, SEC Reg S-P, UK cyber strategy

Operational resilience

Business continuity, concentration risk, outsourcing, OpRisk, third party risk
Cyber resilience, DORA, DLT standards, FED guidance, HKMA guides, UK OpRes

FinTech SupTech RegTech

FinTech, RegTech, SupTech policy research (e.g., inclusion, data collection)
Digital Regulatory Reporting, education, governance, innovation, training

Financial crime

AML, market abuse, penalties, sanctions, tax crime, travel rule
ALMA (EU), Ben Ownership, Company registries, Econ Crime Plan (UK), MLR, SARs

Technology Risk

Controls, risk, standards, technology policy, third party risk management
AI, API, Cloud data, Cyber, DLT, ESG data, privacy, quantum, reg reporting
Source: Summary of JWG's RegRadar analysis – Q321- Q122
Talk to us about how we can take away the pain of detailed tracking, reduce costs and make sense of your regulatory agenda.
RegCast
Our RegCast, 'Implementing RegTech control solutions' discusses the areas that need to be considered when looking at the market offerings and what it takes to deploy next generation data feeds..
How you can use RegDelta
At JWG, we understand the stress of onboarding a new application internally, and that's why we have created a seamless onboarding approach to minimise the impact on BAU.
RegTech Intelligence
Your comprehensive library of in-depth articles, white papers, surveys, reports and analytics, covering ever changing regulatory obligations and how new technology ensures compliance.
Explore RegTech Intelligence
RegTech Community
RegTech Communities provide a dedicated, safe space where financial institutions, regulators, trade associations and technology suppliers come together to stay ahead of sector demands.
Explore RegTech Community