 Environmental, Social, Governance
New ESG policies to deliver granular information are the order of the day but practices will be evolving for some time. The bar has been set high by both customers and regulators, and any misinterpretation could result in disadvantages in the market or fines. Given the high stakes, new capabilities are needed to keep systems and data up to speed with market expectations.
JWG RegDelta offers NLP-powered solutions to streamline policy development, reduce project timelines, and provide significant recurring savings. With RegDelta, managing policies and data rules becomes easy, ensuring compliance with the ever-changing ESG landscape.
Watch Video
Request a Demo
JWG RegDelta solutions
We deliver bespoke, NLP-powered clouds to accelerate policy and reduce policy projects by months, and deliver recurring savings with 300%+ RoI.
Keeping on top of the ever-changing ESG landscape has never been easier. RegDelta holds your policy and data rules and helps you keep them up to date in ways no other tooling can.
JWG's regulatory analysts leverage powerful AI/NLP to filter the noise and deliver your relevant documents and trusted radar reports.
Your custom reports and daily alerts drive collaboration across your organisation and capture insights so you can easily get ahead of trends and be in position to win.
By mapping documentation to your control framework and capturing commentary and approvals in a single source of truth operations and technology teams can keep systems aligned with acceptance testing criteria and satisfy Audit with a robust decision trail here.

Don't wait: Let us help today
Filter the noise, save time and effort, and take control.
Call us on (+44)7973 492906 or contact Corrina.stokes@jwg-it.eu for more information.
RegDelta is deployed to suit your business needs:
Our clients have achieved massive returns on their investment.

Call us on (+44)7973 492906 for more information on how our clients have deployed and benefited from the RegDelta system.
Request a Demo
Find out about JWG
RegDelta gives firms control over their regulatory obligations
RegDelta uses AI-enabled NLP to help humans make intelligent decisions about their compliance obligations. In addition to hundreds of NLP tags, each document is enriched with 12 metadata fields by JWG analysts, allowing users to navigate vast libraries in a seamless workflow.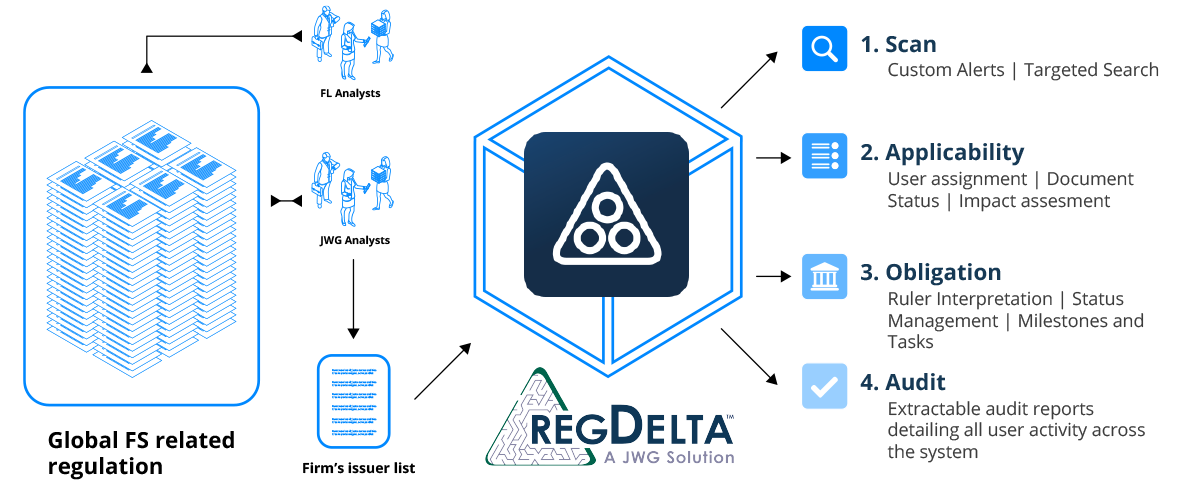 Request a Demo
At JWG, we understand the stress of onboarding a new application internally, and that's why we have created a seamless onboarding approach to minimise the impact ton BAU.
RegTech Intelligence
Your comprehensive library of in-depth articles, white papers, surveys, reports and analytics, covering ever changing regulatory obligations and how new technology ensures compliance.
Explore RegTech Intelligence
RegTech Community
RegTech Communities provide a dedicated, safe space where financial institutions, regulators, trade associations and technology suppliers come together to stay ahead of sector demands.
Explore RegTech Community